Europe Camp • Wichrowe Wzgórze • Chmielno, Poland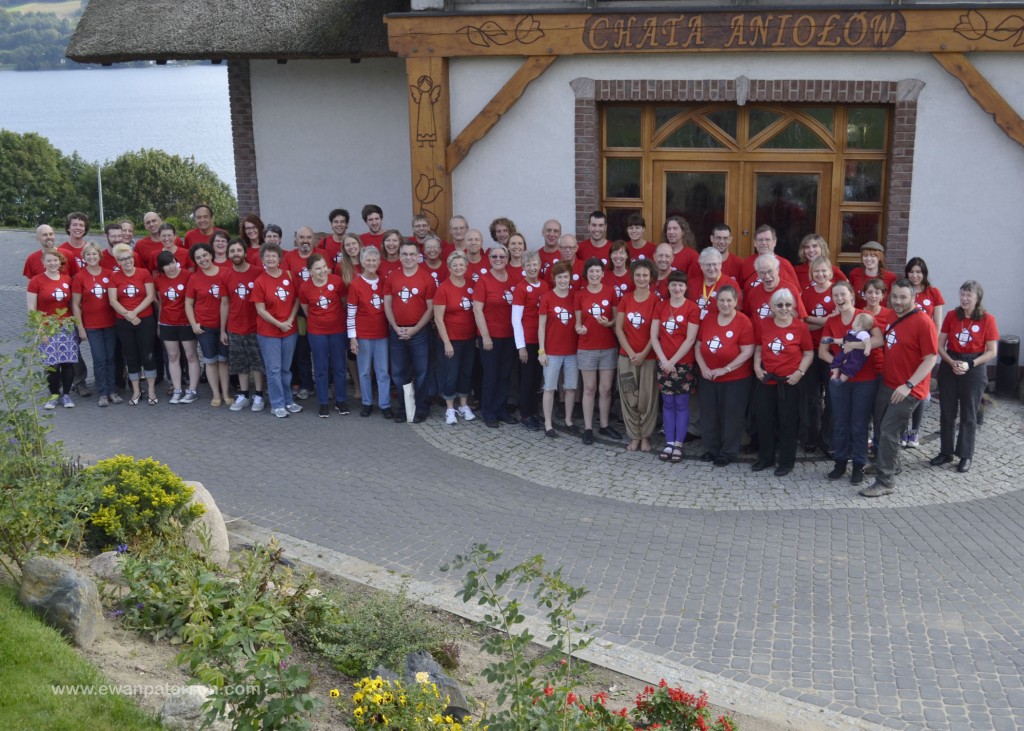 Europe Camp Information
Location: Wichrowe Wzgórze, 13, 83-333 Chmielno, Poland.
Fees: $400 (30 and up), $200 (29 and under) through Sep 1.
Deposit: $50 due with registration. Final payment due Sep 1.
Late Fee: Add $50 for final payment or registration after Sep 1.
Europe Camp Details
Thank you for your interest in the Europe session of Camp Fasola! This is the second opportunity to experience this Sacred Harp camp in Poland. We are excited about your participation and the contributions you will make to the learning, singing, recreation, and fellowship activities of camp week. Following is more detailed information to help you prepare for Camp Fasola Europe.
Europe Camp is held at beautiful Wichrowe Wzgórze, which is located approximately 36 km/23 miles west of Gdansk and 400 km/250 miles northwest of Warsaw.
Following is more detailed information to help you prepare for Camp Fasola.
Lodging
Sleeping quarters at Wichrowe Wzgórze are motel style rooms with varying numbers of occupants per room. Some rooms have private baths while others have bathrooms that are shared with other quarters. Linens will be provided. Please let us know if you have special needs for lodging.
Meals
Meals for breakfast, lunch, and dinner will be served family-style in the Wichrowe Wzgórze dining hall. A specific vegetarian menu may not be provided, but salads and sometimes other vegetables are available. Snacks and tea will also be provided in the mid-morning and mid-afternoon. Coffee and other refreshments may be purchased at the dining hall during the day and in the evening.
Recreation
Recreation options are expected to include Kashubian pottery, canoeing, paddleboats, lake swimming, horse cart excursion, and exercise class.
Lessons
We will have a good selection of lessons and electives, so you will have at least three hours of singing school lessons per day plus more singing each night. We will have sessions for all levels of experience from beginners through experienced singers.
Counselors
Counselors are available to help adult campers enjoy the Camp Fasola experience. Parents/guardians or grandparents are responsible for accompanying and supervising youth under age 18 at all times for all activities, meals, classes, and sleeping at Camp Europe. Campers are asked to perform some area of service to support camp operation during the week.
Other Singings
The United Kingdom Sacred Harp Convention will be held the weekend before Camp Europe (September 19–21) in Stannington, South Yorkshire near Sheffield. The Poland Convention will be held in Warsaw the weekend following Camp (September 27–28).
Transportation
Transportation to and from Camp Fasola is the responsibility of campers.
Arrival
Check-in will be conducted between 4:00 and 6:00 p.m. on Monday. We request that you let us know if you will be arriving later. You will be issued your room assignment, Camp Fasola T-Shirts, and the final camp schedule of events. Our first camp meal will be at 6:00 p.m.
Venue
Camp Fasola Europe will be held at beautiful Wichrowe Wzgórze, 13, 83-333 Chmielno, Poland, near Gdansk in the northern part of the country.
Packing List
Following is a packing list of suggested items. Be sure to bring appropriate comfortable, casual clothing for outdoor activities. Campers will wear three provided Camp Fasola T-Shirts for Tuesday, Wednesday, and Thursday. Linens are provided. Do not bring illegal drugs, fireworks, firearms, or any other dangerous or illegal item.
Comfortable and appropriate clothing for your stay at camp
T-shirts, Polo shirts
Shorts
Jeans, khakis, skirts
Long sleeve shirts
Pajamas
Underwear and socks
Tennis shoes/shoes for hiking, sandals
Raincoat/slicker/umbrella
Appropriate swimwear
Cap/hat
Toiletries
Toothbrush
Toothpaste
Shampoo/conditioner
Soap
Deodorant
Lotion
Comb/hairbrush
Other
Sacred Harp, 1991 Edition songbook
Throat lozenges
Medications
Sunscreen
Insect repellant
Notebook and pen
Flashlight and batteries
Beach towel (for swimming)
Camera (optional)
Water bottle (optional)
Seat cushion (optional)
Other Information
For additional information, email camp@fasola.org or dial 404.237.1246.