$500-Adults (age 30+) • $250-Young Adults (age 19-29) • $250-Youth (age 18 and under)
Camp Fasola is being reimagined for 2020 as we move to a new venue and hold both Adult Camp and Youth Camp in the same week at the same place.
What does this mean for campers?
Lots of lessons and electives led by experienced and innovative singing school teachers
Fellowship and fun with singers from 20+ states plus foreign countries
New recreation options and time to hang out with singing friends
Class singing sessions because this is what Sacred Harp singing is all about
Bunkhouses and open cabins for youth and young adults
Comfortable double occupancy hotel style lodging (offsite 7 miles at The Vision at Bailey Cove) for adults with option for single occupancy
New opportunities for intermingling of generations in singing sessions and electives
Lemonade making and watermelon social on last full day of Camp
Community singing the last evening with opportunity to sing with folks from the surrounding area
Time for relaxation and rejuvenation in a beautiful setting
Plan to come early to Huntsville, a premier progressive city, for activities before and after Camp. Attend traditional southern Sacred Harp singings both the weekend before and the weekend after Camp Fasola.
---
Camp Fasola Europe 2020
Monday, September 21 – Friday, September 25
Wichrowe Wzgórze
Chmielno, Poland
$500-Age 30+ • $250-Age 29 and under
Camp Fasola Europe returns to beautiful Chmielno in northern Poland in 2020 once again. Join us!
---
About Camp Fasola
Camp Fasola is a summer camp that provides an immersive experience for learning Sacred Harp shaped note singing, history, and traditions. Multiple daily sessions are devoted to teaching Sacred Harp singing as well as times for singing, fellowship, and recreation. This experience provides a casual environment for learning and singing this unique American a cappella music form, which has its roots in early America. Campers are involved in practical experiences to support camp operation just like at all day singings.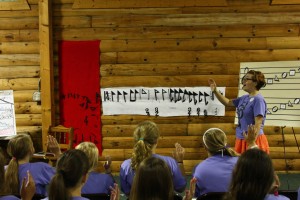 Camp Fasola is open to youth and adults with instruction provided for both beginning and experienced singers. Multiple tracks of classes suited to different experience levels are taught each of the three full days of camp. Traditional summer camp activities focused on building and extending friendships of singers are provided. The final camp night features a community singing event in which non-campers from the broader Sacred Harp community gather to sing with the campers.
The five day/four night camp has been held annually since 2003 with more than 3,000 campers participating. Two sessions per summer have been held since 2008. Camp Fasola Europe has been held in Poland in even numbered years since 2012. Camp Fasola has received national recognition as a highly effective traditional singing school project for the purpose of preserving and extending Sacred Harp singing for future generations of singers. It is also great fun!
The Sacred Harp Musical Heritage Association (SHMHA), a non-profit 501(c)(3) organization whose purpose is the preservation and perpetuation of Sacred Harp singing, sponsors and conducts Camp Fasola.