Youth Camp • July 3-7, 2023 • The Vision • Huntsville, Alabama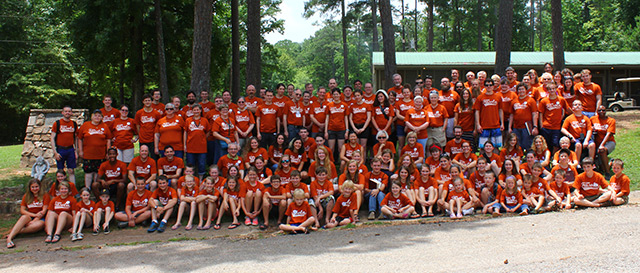 Youth Camp Information
2023 Dates: Mon., July 3, 3 p.m. through Fri., July 7, 9 a.m.
Location: The Vision, 187 Oscar Webster Rd SE, Huntsville, AL 35803.
Fees: $300 (youth 18 and under) through April 30

($200 each for multiple youth campers per family).

Deposit: $50 due with registration. Final payment due April 30.
Late Fee: Add $50 for final payment or registration after April 30.
Youth Camp Details
The Youth Camp session is programmed with an emphasis for youth (singing school lessons, full recreation schedule, some singing elective classes).
Lodging
Youth Camp sleeping accommodations are open lodge style with camp bunk beds (up to 20 per room) and community bathrooms. All the sleeping and meeting areas are air conditioned. Separate lodges are allocated for females and males. Linens are provided by The Vision. There will not be lodging available for parents and children together at The Vision.
Meals
Meals for breakfast, lunch, and dinner are catered in the camp dining hall. We also provide snacks in the mid-morning and mid-afternoon. (If you would like to bring treats such as drinks, cookies, brownies, fruit, chips, or other food for the snack times, we would appreciate it.)
Recreation
Camp Fasola recreation includes swimming, hiking, canoeing, fishing (bring your own gear), crafts, climbing wall, archery, rappelling, and tomahawk throwing.
Lessons
We will have a good selection of lessons and electives, so you will have at least three hours of singing school lessons per day plus some electives plus class singing each night. We will have sessions for all levels of experience from beginners through experienced singers.
Counselors
Counselors will supervise camp activities for youth age 10–18. Parents/guardians or grandparents are responsible for accompanying and supervising children under age 10 at all times for all recreation, activities, meals, classes, and sleeping. Campers are asked to perform some area of service to support camp operation during the week.
All-Day Singings
All-day singings are held in the area on the weekends before and after Camp Fasola.
Transportation
Transportation to Camp Fasola is the responsibility of campers. We will provide rides at designated times from and to the Huntsville International Airport (HSV) on Monday and Friday.
Arrival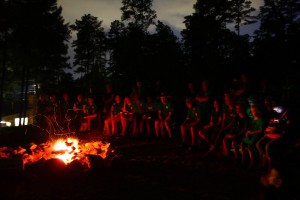 Check-in will be conducted between 3:00 and 6:00 p.m. on Monday. We request that you let us know if you will be arriving later. You will be issued your room assignment, three Camp Fasola T-Shirts (for Tuesday, Wednesday, and Thursday), and the final camp schedule of events. Our first camp meal will be at 6:00 p.m. Please note that Alabama is in the Central Time Zone.
Venue
The main campus of The Vision is located at 187 Oscar Webster Road SE, Huntsville, AL 35803. Youth Camp will be held at The Vison's "Legacy Camp."
Directions
From U.S. 231 (Memorial Parkway) take Hobbs Island Road to Hegia Burrow Road. You will cross a set of railroad tracks and then pass the Huntsville Speedway. Turn left on Oscar Webster Road (at "The Vision") sign and then after 1/10th of a mile take the gated entrance on your right. There are green and red "Welcome" and "Entrance" banners at this entrance. Watch for the Camp Fasola signs. (Do not go to the end of Oscar Webster Road.)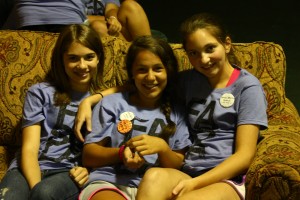 Packing List
Here is a packing list of suggested items. Be sure to bring appropriate comfortable, casual clothing for summertime outdoor activities. Campers will wear three provided Camp Fasola T-Shirts for Tuesday, Wednesday, and Thursday. Do not bring alcohol, illegal drugs, fireworks, firearms, or any other dangerous or illegal item.
Comfortable and appropriate clothing for your stay at camp
T-shirts, Polo shirts (camp T-shirts will be provided for Tuesday, Wednesday, and Thursday)
Shorts
Jeans, khakis, skirts (jeans are required for rappelling)
Lightweight long sleeve shirt (in case of a cool night)
Pajamas
Underwear and socks
Sneakers/walking shoes/shoes for hiking/sandals
Closed-toe shoes are required for Tomahawk Throwing, Archery, Rappelling, Climbing Wall, Ropes Course
Raincoat/slicker/umbrella
Appropriate swimwear – bring separate swimwear for pool and canoeing (The Vision rules: modest swimsuits with appropriate cover-ups)
Cap/hat
Linens
Towels, washcloth
Bed linens are provided, including pillow
Toiletries
Toothbrush
Toothpaste
Shampoo/conditioner
Soap
Deodorant
Lotion
Comb/hairbrush
Other
Sacred Harp, 1991 Edition songbook
Throat lozenges
Medications
Sunscreen
Insect repellant
Notebook and pen
Flashlight and batteries
Plastic bag for wet clothing
Sunglasses
Beach towel (for swimming)
Bookbag/backpack (optional)
Camera (optional)
Water bottle (optional)
Seat cushion (optional)
Hotels
Hotels are available in Huntsville near The Vision for stays before or after camp.
Camp Scholarships
Scholarship/work study support for camp fees may be available based on need. Our aim is for every camper who wishes to participate in Camp Fasola to have that opportunity. Priority for scholarship support is given to campers who have multiple family members attending; who have substantial travel expenses; or who otherwise would be unable to attend without financial support.
Please complete the camp scholarship form (also accessible on the camp PDF registration form) if you require scholarship support for camp fees. We also encourage campers to seek financial support from their local Sacred Harp community.
More Information
For additional information on Youth Camp, email camp@fasola.org.