SHMHA sadly announces the cancellation of Camp Fasola 2020 (US) that was scheduled for June 29-July 3 in Huntsville, Alabama because of the continuing uncertainty around the Covid-19 pandemic.
The health and safety of our campers has always been our paramount concern. At this time we are not certain that we can ensure a safe environment for such a large group gathering this summer. Deposits and fees will be refunded in full to registered campers. Awarded scholarships will be rolled over to Camp Fasola 2021.
We hope to have some "virtual" Camp sessions this summer, so watch for more on that later. For your planning purposes, the dates reserved for Camp Fasola 2021 are July 5-9 at The Vision in Huntsville, Alabama.
Thank you for your support!
Adult Camp • June 29-July 3, 2020 • The Vision • Huntsville, Alabama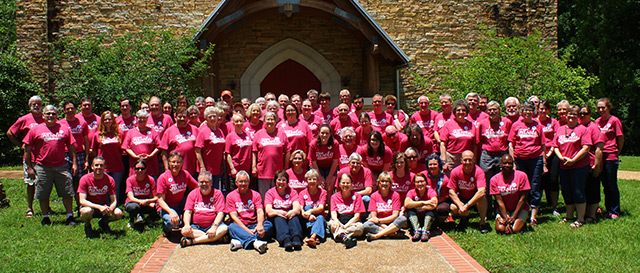 Adult Camp Information
2020 Dates: Mon., June 29, 4 p.m. through Fri., July 3, 9 a.m.
Location: The Vision Retreat and Conference Center, 187 Oscar Webster Rd SE, Huntsville, AL 35803.
Fees: $500 (age 30 and up), $250 (ages 19-29) through May 31.
Deposit: $50 due with registration. Final payment due May 31.
Late Fee: Add $50 for final payment or registration after May 31.
Adult Camp Details
The Adult Camp session is programmed with an emphasis for adults (singing school lessons, fewer recreation options, extensive singing elective classes).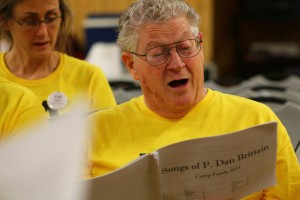 Adult Camp is held at The Vision Retreat and Conference Center, which is located in beautiful Huntsville, Alabama. Huntsville is 100 miles north of Birmingham, 200 miles northwest of Atlanta, and 130 miles south of Nashville.
Lodging
Sleeping quarters for adult campers (age 30+) will be at The Vision at Bailey Cove, 10310 Bailey Cove Road, Huntsville, AL 35803, conveniently located 7 miles from The Vision main campus. Rooms are comfortable, private hotel style rooms (linens are provided) with private bathroom. Adult camp fee is for double occupancy. To request a single room without a roommate, add $250 for single occupancy (subject to available space). Sleeping quarters for young adult campers (ages 19-29) will be open lodge style at The Vision main campus (subject to available space). Young adult campers can choose to stay at The Vision at Bailey Cove for the age 30+ rate.
Meals
Meals for breakfast, lunch, and dinner are offered buffet-style. We also provide snacks in the mid-morning and mid-afternoon. (If you would like to bring treats to share such as drinks, cookies, brownies, fruit, chips, or other food for the snack times, we would appreciate it.)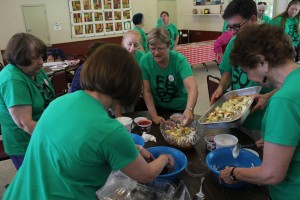 Recreation
Camp Fasola recreation includes swimming, hiking, canoeing, fishing (bring your own gear), crafts, climbing wall, archery, rappelling, and tomahawk throwing.
Lessons
We will have a good selection of lessons and electives, so you will have at least three hours of singing school lessons per day plus electives and each night's class singing. We will have sessions for all levels of experience from beginners through experienced singers.
All-Day Singings
All-day singings are held in the area on the weekends before and after Camp Fasola.
Singings Before Camp
Sat., June 27th—Salem United Methodist Church Singing—Near Cedar Bluff, Cherokee County, Alabama—9:30 a.m.—On Alabama Highway 9 between Cedar Bluff, Alabama and the Georgia state line—7 miles from Cedar Bluff and 1 mile from the Georgia line—Info: Henry Johnson
Sat., June 27th—The Kermit and Steve Adams Memorial—Shady Grove Primitive Baptist Church, Winston County, Alabama
Sun., June 28th—DeLong-Roberts Memorial Singing—Big Creek Primitive Baptist Church, 4490 State Bridge Way, Alpharetta, Georgia—10:00 a.m.—Exit GA400 N at exit 10—Go east for 2.6 miles—turn left at traffic light on to Kimbell Bridge Road (past Chick-fil-A)—take second left into parking lot—Info: Jesse Roberts
Sun., June 28th—New Hope Church—Cullman County, Alabama—Five miles south of Jones Chapel off Hwy. 278, turn south onto County Road 940—Church is on the right
Sun., June 28th—Mt. Lebanon Baptist Church—Fayette County, Alabama
Singings After Camp
Sat., July 4th & Sun., 5th—Henagar-Union Convention—Liberty Church, DeKalb County, Alabama—Saturday 9:00 a.m. and Sunday 9:30 a.m.—1500 Liberty Road, Henagar, AL 35978—Info: David@DavidIvey.com
Transportation
Transportation to Camp Fasola is the responsibility of campers. We will provide rides at designated times from and to the Huntsville International Airport (HSV) on Monday and Friday.
Arrival
Check-in will be conducted between 4:00 and 6:00 p.m. on Monday. We request that you let us know if you will be arriving later. You will be issued your room assignment, three Camp Fasola T-Shirts (for Tuesday, Wednesday, and Thursday), and the final camp schedule of events. Our first camp meal will be at 6:00 p.m. Please note that Alabama is in the Central Time Zone.
Venue
The main campus of The Vision is located at 187 Oscar Webster Road SE, Huntsville, AL 35803. Adult Camp will be held at The Vison's Lodge facility with lodging at The Vision at Bailey Cove.
Directions
From U.S. 231 (Memorial Parkway) take Hobbs Island Road to Hegia Burrow Road. You will cross a set of railroad tracks and then pass the Huntsville Speedway. Turn left on Oscar Webster Road (at "The Vision") sign and then after 1/10th of a mile take the gated entrance on your right. There are green and red "Welcome" and "Entrance" banners at this entrance. Watch for the Camp Fasola signs. (Do not go to the end of Oscar Webster Road.)
Packing List
Following is a packing list of suggested items. Be sure to bring appropriate comfortable, casual clothing for summertime outdoor activities. Campers will wear three provided Camp Fasola T-Shirts for Tuesday, Wednesday, and Thursday. Linens are provided by The Vision. Do not bring pets, illegal drugs, fireworks, firearms, or any other dangerous or illegal item.
Comfortable and appropriate clothing for your stay at camp
T-shirts, Polo shirts (camp T-shirts are provided for Tuesday, Wednesday, and Thursday)
Shorts
Jeans, khakis, skirts (jeans required for rappelling)
Lightweight long sleeve shirt (in case of a cool night)
Pajamas
Underwear and socks
Sneakers/walking shoes/shoes for hiking/sandals
Closed-toed shoes are required for Tomahawk Throwing, Archery, Rappelling, Climbing Wall, Ropes Course
Raincoat/slicker/umbrella
Appropriate swimwear – bring separate swimwear for pool and canoeing
Cap/hat
Toiletries
Toothbrush
Toothpaste
Shampoo/conditioner
Soap
Deodorant
Lotion
Comb/hairbrush
Other
Sacred Harp, 1991 Edition songbook
Throat lozenges
Medications
Sunscreen
Insect repellant
Notebook and pen
Flashlight and batteries
Book bag/backpack
Beach towel (for swimming)
Camera (optional)
Water bottle (optional)
Seat cushion (optional)
Hotels
Hotels are available in Huntsville near The Vision for stays before or after camp.
Camp Scholarships
Scholarship/work study support for camp fees may be available based on need. Our aim is for every camper who wishes to participate in Camp Fasola to have that opportunity. Priority for scholarship support is given to campers who have multiple family members attending; who have substantial travel expenses; or who otherwise would be unable to attend without financial support.
Please complete the camp scholarship form (also accessible on the camp PDF registration form) if you require scholarship support for camp fees. We also encourage campers to seek financial support from their local Sacred Harp community.
For additional information, email camp@fasola.org.