Adult Camp • June 9-13, 2019 • Camp McDowell • Double Springs, Alabama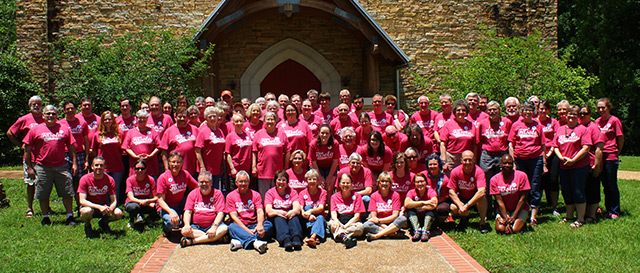 Adult Camp Information
Adult Camp Details
The Adult Camp session is programmed with an emphasis for adults (singing school lessons, fewer recreation options, extensive singing elective classes).
Adult Camp is held at Camp McDowell, which is located just off Alabama 195 midway between Double Springs and Jasper, 55 miles northwest of Birmingham, 85 miles southwest of Huntsville, 200 miles west of Atlanta, and 200 miles southeast of Memphis.
Lodging
Sleeping quarters at Camp McDowell are comfortable and private motel style rooms with two full beds (linens are provided) and private bathroom. Adult camp fee is for double occupancy. To request a single room without a roommate, add $250 for single occupancy (subject to available space). The lodges have refrigerators, microwaves, ranges, and coffee pots in common areas.
Meals
Meals for breakfast, lunch, and dinner are offered buffet-style in the camp dining hall. Vegetarian and vegan options are available for Adult Camp, but you must request in advance. We also provide snacks in the mid-morning and mid-afternoon. (If you would like to bring treats to share such as drinks, cookies, brownies, fruit, chips, or other food for the snack times, we would appreciate it.)
Recreation
Camp Fasola recreation includes swimming, hiking, canoeing, fishing (bring your own gear), crafts, and educational nature programs.
Lessons
We will have a good selection of lessons and electives, so you will have at least three hours of singing school lessons per day plus electives and each night's class singing. We will have sessions for all levels of experience from beginners through experienced singers.
Counselors
Counselors are not provided for youth for the Adult Session of Camp Fasola. Parents/guardians or grandparents are responsible for accompanying and supervising youth under age 18 at all times for all recreation, activities, meals, classes, and sleeping at Adult Camp. Campers are asked to perform some area of service to support camp operation during the week.

Other Singings
All-day singings are held in the area on the weekends before and after Camp Fasola. Note that the National Convention is held on Thursday, Friday, and Saturday following Adult Camp.
Singings Before Camp
Sat., Jun 8th—Raymond Hamrick Memorial Georgian Harmony Singing—Roberta Civic Center, South Matthews Street, Roberta, Georgia—Info: John Plunkett
Sat., Jun 8th & Sun., 9th—Hopewell Homecoming—9:00 a.m.—Hopewell Primitive Baptist Church—3596 Airport Road, Altoona, Blount County, Alabama—Info: Nate Green
Sun., Jun 9th—June Singing—Alpharetta City Hall Building, Alpharetta, Georgia—Info: Helen Bryson
Sun., Jun 9th—Oak Springs Church—Calhoun County, Mississippi—3 miles north of Derma—Dinner at noon, singing at 1:00 p.m.
Sun., Jun 9th—Aldridge Memorial—Pleasant Hill Church (Johnson Schoolhouse)—Fayette County, Alabama—Info: Elene Stovall, Bridgett Kennedy, or Joan Aldridge
Singings After Camp
Thu., Jun 13th, Fri., 14th & Sat., 15th—National Sacred Harp Singing Convention—9:30 a.m.—Alabama Square Dance Association, Friendship Hall, Fultondale, Alabama—Info: Mark Davis
Sat., Jun 15th—Moore, Graves, and Calvert Memorial—Addington Chapel Methodist Church—Cullman County, Alabama—from I-65 take exit 299-go south on Hwy 69 toward Jasper approximately 10.8 miles-turn right onto County Road 59-go 1.5 miles, church will be on your right.
Sun., Jun 16th—Hopewell Primitive Baptist Church—10:00 a.m.—Near Ephesus, Heard County, Georgia—Take Georgia Hwy. 100 south to Ephesus School—Turn left onto Ephesus/Roosterville Road—Go 2.5 miles, turn right—Info: Karen Rollins
Sun., Jun 16th—Clifford Wakefield Memorial—King School House (Mt. Vernon Baptist Church)—Winston County, Alabama
Sun., Jun 16th—Macedonia Primitive Baptist Church—10:00 a.m.—Macedonia Community (Jackson County/Sand Mountain), Alabama—4 miles south of Section—7 miles northwest of Fyffe on county road to Section—Info: Dennis George.
Transportation
Transportation to Camp Fasola is the responsibility of campers. You may connect with other campers who are flying into the Atlanta or Birmingham airports via the Camp Fasola Facebook page to carpool/arrange rides together.
Arrival
Check-in will be conducted between 4:00 and 6:00 p.m. on Sunday. We request that you let us know if you will be arriving later. You will be issued your room assignment, three Camp Fasola T-Shirts (for Monday, Tuesday, and Wednesday), and the final camp schedule of events. Our first camp meal will be at 6:00 p.m. Please note that Alabama is in the Central Time Zone.
Venue
Camp McDowell is located off Alabama 195 at mile marker 13 between Jasper and Double Springs. The street address is 105 DeLong Road, Nauvoo, AL 35578.(Note that even though this is the street address, Camp McDowell is not located in the town of Nauvoo.) GPS coordinates: Latitude: 34°00'54" N, Longitude: -87°21'42" W or (34.015, -87.361).
Directions
From Birmingham: Take I-65 north in Birmingham. Take exit to I-22 west. Take Exit 63 and turn right onto Alabama 269 north into Jasper. Turn right at second light onto 18th Street and take an immediate left onto 9th Avenue, which will turn into Alabama 195. Take Alabama 195 approximately 15 miles to mile marker 13 and turn right into Camp McDowell.
From Huntsville: Take I-65 south to Cullman. Take U.S. 278 west to Double Springs. Take Highway 195 south approximately 10 miles to mile marker 13 and turn left into Camp McDowell.
From Florence/Muscle Shoals: Take U.S. 43 south from Florence to Russellville. Take Alabama 243 from Russellville until that road ends. Then take Alabama 195 south to Double Springs. Continue on Alabama 195 south about 10 miles and turn left into Camp McDowell at mile marker 13.
From Tuscaloosa: Take Alabama 69 north to Jasper. Take Alabama 195 approximately 15 miles to mile marker 13 and turn right into Camp McDowell.
GPS coordinates: Latitude: 34°00'54" N, Longitude: -87°21'42" W or (34.015, -87.361).
Packing List
Following is a packing list of suggested items. Be sure to bring appropriate comfortable, casual clothing for summertime outdoor activities. Campers will wear three provided Camp Fasola T-Shirts for Monday, Tuesday, and Wednesday. Linens are provided by Camp McDowell. Do not bring pets, illegal drugs, fireworks, firearms, or any other dangerous or illegal item. Lodge rooms cannot be locked, so any valuables will need to be secured in your automobile.
Comfortable and appropriate clothing for your stay at camp
T-shirts, Polo shirts (camp T-shirts are provided for Monday, Tuesday, and Wednesday)
Shorts
Jeans, khakis, skirts
Lightweight long sleeve shirt (in case of a cool night)
Pajamas
Underwear and socks
Sneakers/walking shoes/shoes for hiking/sandals
Raincoat/slicker/umbrella
Appropriate swimwear
Cap/hat
Toiletries
Toothbrush
Toothpaste
Shampoo/conditioner
Soap
Deodorant
Lotion
Comb/hairbrush
Other
Sacred Harp, 1991 Edition songbook
Throat lozenges
Medications
Sunscreen
Insect repellant
Notebook and pen
Flashlight and batteries
Book bag/backpack
Beach towel (for swimming)
Camera (optional)
Water bottle (optional)
Seat cushion (optional)
Hotels
Hotels are available in Jasper near Camp McDowell for stays before or after camp (listed in alphabetical order).
Days Inn–Jasper – www.daysinn.com – (205) 221-7800
Hampton Inn Jasper – www.hamptoninn.com – (205) 221-3334
Holiday Inn Express–Jasper – www.hiexpress.com – (205) 302-6400
Quality Inn–Jasper – www.qualityinn.com – 855.849.1513
Super 8 Jasper – www.super8.com – (205) 221-3050
Travel Rite Inn – (205) 221-1161
Camp Scholarships
Scholarship/work study support for camp fees may be available based on need. Our aim is for every camper who wishes to participate in Camp Fasola to have that opportunity. Priority for scholarship support is given to campers who have multiple family members attending; who have substantial travel expenses; or who otherwise would be unable to attend without financial support.
Please complete the camp scholarship form (also accessible on the camp PDF registration form) if you require scholarship support for camp fees. We also encourage campers to seek financial support from their local Sacred Harp community.
For additional information, email camp@fasola.org.